When you start a new business, one of the biggest decisions you make is the legal structure of your organization. You have many options like a sole proprietorship, partnership, public limited company, private limited company, one-person company, limited liability partnership, etc. Every structure offers a unique set of advantages and disadvantages. This is an important decision because, among other things, it affects the tax structure, paperwork, liability of member, ability to raise funds, etc. So, what structure should you opt for? Before you make a decision, it is important to remember that no two companies are alike. Therefore, there is no good or bad structure – some are good for certain businesses and situations while others are good for some others. In this article, we will focus on private limited company registration and offer some reasons to select private limited company over other entities.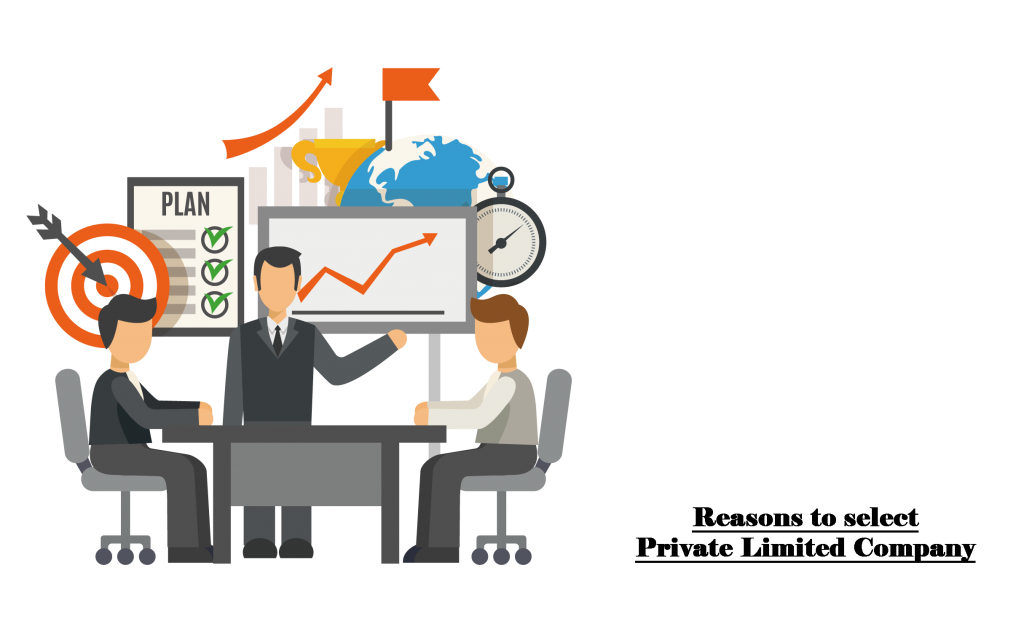 Factors to consider before choosing a business entity
We would like to mention here that this is an important decision that you should not take lightly. Choosing a business entity should depend on various factors:
Liability of owner(s)
When you start a business you PLAN to make profits and PREPARE for potential losses. A successful business is based on the way it manages downturns and losses that are a possibility in the long-run. If you choose an entity like a sole proprietorship or partnership, then you must prepare yourself to handle the risk of potential liability of your business. If you are personally liable for the potential losses associated with your business, then your personal assets are always at risk.
Hence, before you make the choice, think about the nature and structure of your business. Also, assess if you want to accept personal liability for any losses associated with your business. Remember, accepting liability also means a bigger share in profits.
Costs (formation of company and running costs)
Another important aspect to remember is that the core objective of a business is earning profits. Also, one of the best ways to increase your profits is – decreasing your costs. Further, you need to have a clear picture of the costs associated with different types of business entities before making the decision.
What are the costs involved in starting the entity?
Do the mandatory record-keeping and compliance requirements involve high costs?
Which entity is more cost-efficient?
Note that we didn't ask you to look for an entity with the least costs but one that is the most cost-efficient. Every business has certain requirements. Hence, we would not recommend merely looking for the cheapest way to start your business. Instead, focusing on the most cost-efficient manner to start as it can wield good results. Weigh the features of the different types of entities and make an informed decision.
Envisage the future requirements of your business
Starting a business is an overwhelming process. So many things happening at the same time, unexpected glitches and road bumps, and the entire process of getting the business started can be exhausting. During such times, it is difficult to think about what the future might hold. However, this is important since choosing the right entity now can allow you to raise funds for expansion or regular business requirements in the future.
The succession of the business
Life is unpredictable. Therefore, every business owner needs to think about what will happen to his business if he is no longer around to run it. After devoting years to set-up and grow the business, he wouldn't want it to dissolve, right? On the other hand, if the business is centered on his skills alone, then succession wouldn't matter.
It is also important to remember that usually, businesses evolve over time. Hence, you might start with a certain business structure but change it eventually as your business grows. Therefore, you need to understand the benefits of different business entities to make the right choice.
This article is about private limited companies and their benefits. Hence, here are some reasons you should select a private limited company over other business entities.
Why select Private Limited Company over other business entities?
A private limited company is a separate legal entity. Hence, it has a separate existence that is distinct from its members.
It offers perpetual succession. This means that the company continues to exist even after the directors or members die or leave the company.
A private limited company offers limited liability. Hence, the liability of the members is limited up to the shares they hold. Also, they are not personally liable for the debts of the company.
You can raise funds in the future with ease. Such a company is usually more trustworthy for an investor to invest due to its recognized legal structure.
You can create Employee Stock Options or ESOPs to keep your employees motivated. ESOPs, are shares that a company can issue to its employees. Further, they are issued at a discounted price or even free to motivate employees.
There is no minimum capital requirement to start a private limited company. Earlier, there was a requirement of the minimum paid-up capital of INR1 lakh. This is no longer applicable.
There are many benefits that you can draw when you select a private limited company for your business. Also, there are a set of compliances that you need to adhere to.
Summing Up
Remember, the choice of business entity can have a huge bearing on the efficiency of your business. While you can always change it to another entity, it will cost you time and money. Hence, it is important to research well and check all the boxes before making a choice. We hope that this article provided enough information to help you select a private limited company over other entities. If you have any further questions, please feel free to write to us.