As a new business, the company name is the first thing a customer faces. Hence, it needs to be catchy, unique, and convey the right message. The name of a company is a legal title of an organization and needs to be finalized while initiating the company registration process.  In this article, we will talk about some key points regarding applying for a company name.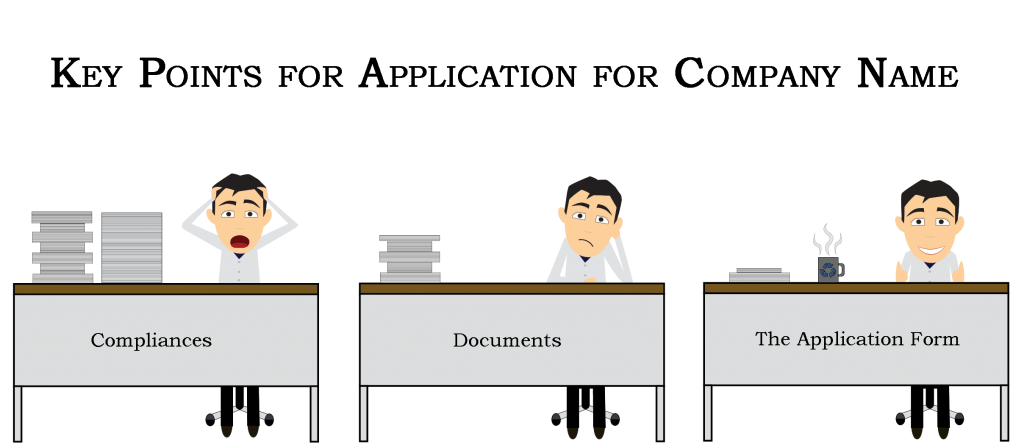 Keep these points in mind when you choose a Company Name
Ensure that the name is unique and relevant to your business
Avoid a name this is illegal, misleading, or offensive
Include appropriate suffixes like private limited, OPC, public limited, etc. as applicable
If the name contains any words or phrases that need approval, then ensure that the approvals are in place before applying for the company name
The name should not hamper the legal rights of any trademark owner
Choose a UNIQUE name
The company name is considered identical to an existing name when:
You use the plural version of a registered name. For example, 'Plastic' and 'Plastics'
You use space or punctuation marks between letters like 'Medicare' and 'MediCare'
Choose a company name with different phonetics of spellings like 'TP' and 'TEE PEE'
Intentionally using wrong spellings like 'Night' and 'Nite'
Changing the order of words in different combinations of the same set of words. For example, 'Bow and Arrow Private Limited' and 'Arrow and Bow Private Limited'
Your company's name is the translation of a registered name in English or Hindi
Before you select the name of your company, you will need some approvals:
Approvals Required
The

Emblems and Names (Prevention and Improper Use) Act, 1950

(Act) has a Schedule that lists all names and emblems that require approval before use. Section 3 of the Act states that you cannot use the name or emblem specified in the Schedule or any colorable imitation without prior approval from the Central Government. An officer of the Government can also be authorized to grant permission to use the name or emblem for business, profession, or trademark purposes.
If the company name includes the name of a registered trademark, then you need consent from the owner of the trademark. According to the

Trade Marks Act, 1999

, this is mandatory.
According to the Electoral Trusts Scheme, 2013, you can use the phrase 'Electoral Trust' in your company name. You can form such a company under section 8 of the Act as notified by the Central Board of Direct Taxes (CBDT)
If you use any of the following word combinations in your company name, then you need to seek prior approval from the Central Government:

Board
Commission
Authority
Undertaking
National
Union
Central
Federal
Republic
President
Rashtrapati
Small Scale Industries
Khadi and Village Industries Corporation
Financial Corporation and the like
Municipal
Panchayat
Development Authority
Prime Minister or Chief Minister
Minister
Nation
Forest corporation
Development Scheme
Statute or Statutory
Court or Judiciary
Governor
Bureau and
the use of word Scheme with the name of Government (s), State, India, Bharat or any government authority or in any manner resembling with the schemes launched by Central, state or local governments and authorities
Relaxation in Company Name Registration – The Companies (Incorporation) Amendment Rules, 2016
Relaxations in selecting the name
The government has omitted the following conditions from the undesirable list in Rule 8:
The name is in consonance with the principal objects of the company as set out in the memorandum of association
The abbreviated name based on the name of the promoters will not be allowed such as ABC Ltd, XYZ Ltd, etc.
The name is intended or likely to produce a misleading impression regarding the scope or scale of its activities beyond the resources at its disposal
Additional relaxations
The company does not have to change its name even if it changes its activities and the name does not reflect it
There was a criterion of submitting a no-objection letter along with the name application if the keywords used in the proposed name were of any person other than a promoter or his close relatives. The amendment removed this criterion
Before you apply for the name…
Check if the proposed name is available at the MCA portal under the RUN option.
It is important to remember that this is just a primary check. The Central Registration Centre (CRC) does the final check under the Non-STP mode. After the CRC checks the availability of the name, approval or rejection is sent to the applicant.
Non-STP are those forms that are not approved automatically after filing. The MCA officers verify them and dispose of accordingly.
Basic Process for applying for Company Name
You can submit the application through three processes:
E-form SPICe + Part A (Individually)
E-form SPICe + Part A together with Part B
RUN (Reserve Unique Name)
Here is a quick comparison between the three processes:
| | | | | |
| --- | --- | --- | --- | --- |
| S. No | Nature of Comparison | SPICe + Part A (Individually) | SPICe+ Part A together with Spice+ Part B | RUN (Reserve Unique Name) |
| 1 | Purpose | Reservation of Name for Incorporation of new company | Filing for incorporation of Company directly with a unique name without reserving it. | Reservation of name in case of change in the name of an existing company. |
| 2 | Documentation | Documentation & application for incorporation vide Spice Part B is made after name approval | Name approval, Documentation and application for incorporation of the company are made together with form Spice Part A and Part B | Documentation & application for change of name of existing company is made after name approval |
| 3 | Name application Fees | Separate fees of Rs. 1000 | No separate fees | Separate fees of Rs. 1000 |
| 4 | No. of attempts for resubmission | One attempt | Two Attempts | One attempt |
| 5 | How many names can you propose? | Four Names (Two names each time) | Three names (One name each time) | Four Names (Two names each time) |
Summing Up
Ensure that you keep these key points in mind while applying for a company name. If you already have a registered name and wish to change it, then you can avail our services to apply for a company name change. We also hope that the article helps you with your application process. In case of any doubts or queries, please feel free to drop us a line.