A partnership firm is a traditional and trusted entity where at least 2 people come together to start a business. Like most other business structures, there are merits and demerits to this structure too. If you are planning to start a new business, then one of the most important decisions you have to make is choosing the structure for your business. Do you think a partnership firm is best suited to you? Or, should you opt for a limited liability partnership or other entities? Today, we will look at partnership firm advantages and disadvantages to help you make the decision.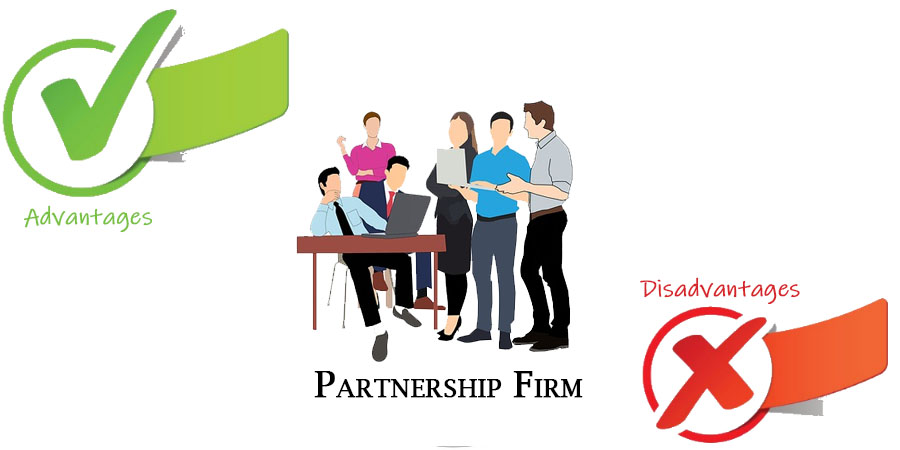 Partnership Firm Advantages
Here are some partnership firm advantages for your quick reference:
Quick decision-making
A sole proprietorship probably has the quickest decision-making ability. However, as compared to the other business entities like a company, a partnership firm allows for quick decision making. This is because there is no need to pass resolutions or seek approval from the Board. In most firms, partners have the power to make decisions on behalf of the firm.
Easy to start
Partnerships firms are one of the easiest business entities to start. In most cases, you can start a partnership firm within a day!
More Accountability
Two individuals become partners when they believe in the business that they are planning to start. Hence, when they start a partnership firm, they have a high sense of accountability towards the firm. This results in a dedicated core team heading the business.
Ease of raising funds
If we compare a partnership with a sole proprietorship, then the former can raise funds in a much easier manner than the latter. The primary reason being banks and financial institutions viewing them favorably.
Easy to dissolve
As compared to a company, a partnership is easier to dissolve. It does not involve complex legal processes and documentation.
Partnership Firm Disadvantages
After reading about the partnership firm advantages, here are some disadvantages for your quick reference:
Unlimited Liability
A partnership firm is not a separate legal entity from its partners. This means that all partners are personally liable for losses of the firm. Even if one partner causes the loss, all the other partners become personally liable.
Restriction on the maximum number of partners
According to Rule 10 of the Companies (Miscellaneous) Rules, 2014, a partnership cannot have more than 50 partners.
Lack of leadership
Since all partners are equally responsible for the business of the firm, there is no single leader. Hence, unless the partners don't choose a leader among themselves, there can be differences in opinion due to a lack of leadership.
Lack of perpetual existence
If the business is a separate legal entity, then it survives even if the directors retire or die. However, a partnership firm is not a separate legal entity from its partners. Therefore, if one out of two partners dies or retires or faces any illness that renders him incapable to perform his duties, then the firm usually dissolves.
Lack of public faith
One of the biggest partnership firm advantages is the fact that you can start it in no time since it is not mandatory to register the firm. However, this advantage has a flip side too. The general public lacks faith in an unregistered business.
Dispute
A partnership firm is formed on the basis of trust and a common business goal. However, during the course of the business, if there is a dispute between the partners that remains unresolved, then the business can suffer.
Summing Up
Hence, we usually recommend a partnership firm to register and create a clear chain of command before it commences business. Also, with the launch of LLPs since 2008, many partnership firms are converting to an LLP to avail of the benefits of limited liability. We hope that this article helped you understand partnership firm advantages and disadvantages clearly. If you are looking to register a partnership firm, please write to us. Our team of experts will be glad to assist you.