The Companies Act, 2013, defines a Registrar of Companies (RoC) as the governing authority for companies in India. Also, the Ministry of Corporate Affairs (MCA) appoints a Registrar of Companies in all states and union territories. Currently, there are 22 such RoCs in India. Further, the Companies Act, 2013, bestows a lot of power in the RoC to ensure that it discharges various functions under the Act. In this article, we will talk about the different functions of Registrar of Companies.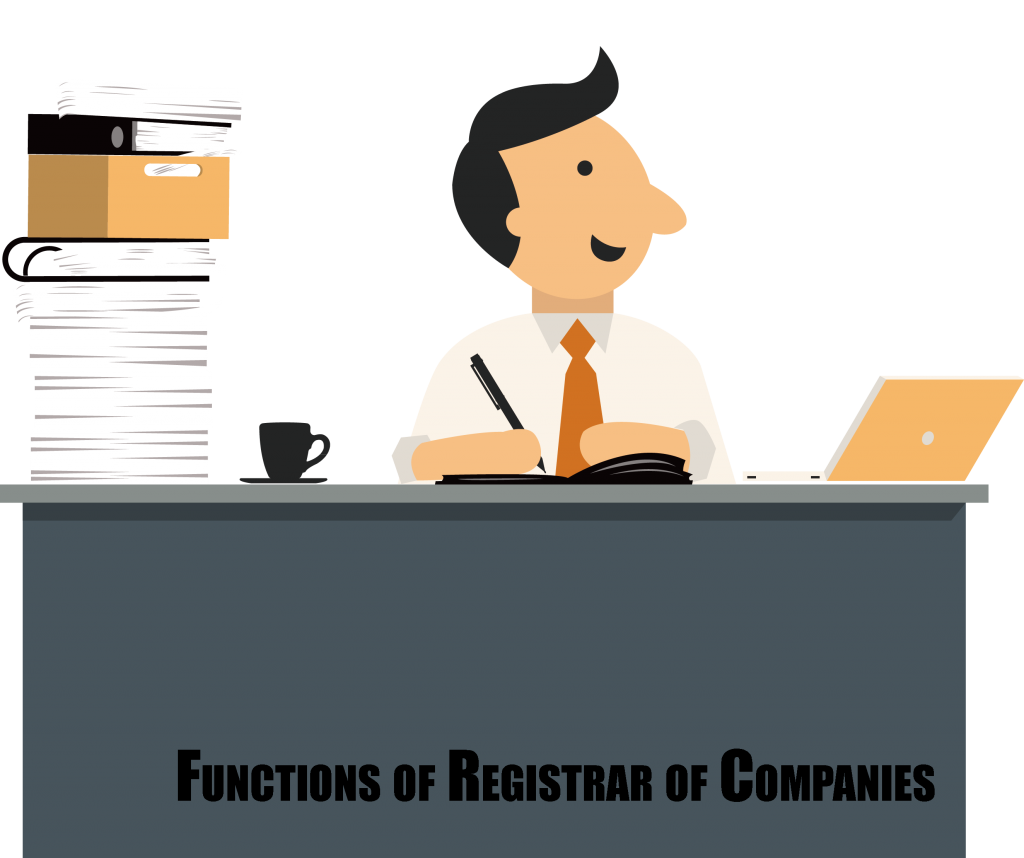 Key Functions of Registrar of Companies
There are three primary functions of Registrar of Companies:
Issuing the certificate of incorporation after authenticating documents.
Maintaining an updated register of companies and LLPs. Hence, the RoC needs to enter the names of newly incorporated companies and remove the ones that are closed.
Keeping track of all the filings done by the companies and LLPs. Also, updating the master data based on the filings.
However, these are not the only functions of Registrar of Companies. Here is an extended list:
Additional Functions of Registrar of Companies
Registration of charges –
Section 77(2)
Every company is required to register the particulars of the charge it creates with the RoC. Also, the company must register all charges on assets (tangible or not) or the properties of the company. Further, this applies to all assets and properties in or outside India. Moreover, companies must register these charges within 30 days of creating them. Also, the RoC can extend this period up to 300 days if the company pays the prescribed fee. Section 77(2) states that the RoC must issue a certificate of registration of charges.
Application for Registration of Charges –
Section 78
The charge-holder can apply for registration of charges if the company fails to do so. The charge-holder must submit the application along with the instrument under which the charge was created. On receiving the application, the RoC gives notice to the company to confirm the charge and explain the reason behind not registering the same. However, the RoC is required to register the charge within 14 days if the charge-holder pays the prescribed fee.
RoC to keep a register of charges for all companies-
Section 81
The RoC must keep a register containing particulars of the charges registered for every company. Further, it must ensure that it follows the prescribed format. Any person can pay the fee for inspection and inspect the register.
The company must file returns with the RoC if the stake of the promoter changes –
Section 93
All companies must file a return with the Registrar if:
There is a change in the number of shares that the promoter holds; or
There is a change in the number of shares that the top 10 shareholders hold
Also, the company must file the return in the prescribed form within 15 days of such a change.
Every company must file a copy of its financial statements with the RoC –
Section 137
Every company must file a copy of the financial statements with the RoC. These include the consolidated financial statement and all documents required with such statements under the Act. Further, the company must file such statements duly adopted at the AGM (annual general meeting) within 30 days of the date of the AGM with the prescribed fees.
Every company must inform the Registrar of the DIN – Section 157
Every company must furnish the Director Identification Number (DIN) to the registrar with 15 days from the director receiving the same. Also, if a company fails to do so, then the RoC can levy a fine.
Inspection Report –
Section 208
Sometimes, the registrar or an inspector is asked to inspect the books of accounts or conduct an inquiry under Section 206. Also, the registrar or inspector is asked to inspect other books and papers of the company under section 207. In both cases, the registrar or inspector must submit a written report to the Central Government along with the necessary documents. Also, they can recommend further investigation along with their reasons for the same if they deem fit.
A State-wise list of Registrar of Companies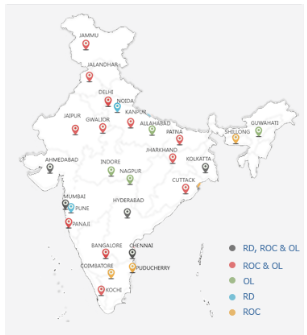 Part I
S.No
ROC/Official Liquidator
State
Contact and Address
1
ROC Hyderabad
Andhra Pradesh & Telangana
2nd Floor, Corporate Bhawan,
GSI Post, Tattiannaram Nagole, Bandlaguda Hyderabad – 500 068.
Phone:040-29805427/29803827/29801927
Fax: 040-29803727
roc.hyderabad@mca.gov.in
2
ROC cum OL Patna
Bihar
High Court of Patna, Maurya Lok Complex, Block "A" 4th Floor, Dak Bungalow Road, Patna.
Phone No: 0612-6604891
3
ROC Ranchi
Jharkhand
Mangal Tower, 4th floor, Old Hazaribagh Road, Near Kanta Toli Chowk, Ranchi,
Jharkhand – 834001.
Phone no: 0651-2531811,2531401
4
ROC cum OL Goa
Goa, Daman & Diu
Company Law Bhawan, EDC Complex,
Plot No.21, Patto, Panaji, Goa.
Phone No: 0832-2438618/2438617
5
ROC cum OL J&K
Jammu And Kashmir
High Court Of Jammu, Bahu Plaza, South Block, Rail Head Complex,
Jammu – 180012.
Phone No: 0191-2470306/2472504
roc.jammu@mca.gov.in
6
ROC Ernakulam
Kerala
Company Law Bhawan, BMC Road
Thrikkakara Kochi – 682021.
Phone: 0484-2423749/2421489
Fax: 0484-2422327
roc.ernakulam@mca.gov.in
7
ROC Mumbai
Maharashtra
100, Everest, Marine Drive
Mumbai- 400002.
Phone: 022-22812627/22020295/22846954
Fax: 022-22811977
roc.mumbai@mca.gov.in
8
ROC Pune
Maharashtra
PCNTDA Green Building, BLOCK A, 1st & 2nd Floor, Near Akurdi Railway Station, Akurdi, Pune – 411044.
Phone: 020-27651375,020-27651378
Fax: 020-25530042
roc.pune@mca.gov.in
9
ROC Puducherry
Puducherry
No.7, Second Floor, Karuvadikuppam Main Road. Senthamarai Nagar, Muthialpet
Puducherry-605 003.
Phone: (0413)-2234129
Fax: (0413)-2237274
roc.pondicherry@mca.gov.in
10
ROC cum OL Jaipur
Rajasthan
C/6-7, 1st Floor, Residency Area, Civil Lines, Jaipur-302001.
Phone:0141-2981913/2981914/ 2981915/2981917
Fax: 0141-2981916
11
ROC Kanpur cum OL Dehradun
Uttar Pradesh & Uttarakhand
37/17, Westcott Building,  The Mall,
Kanpur-208001.
Phone: 0512-2310443, 2310227, 2310323
roc.kanpur@mca.gov.in
Part II
S.No
ROC/Official Liquidator
State
Contact and Address
12
ROC Shillong with an additional charge of OL, Guwahati
Assam, Meghalaya, Manipura, Tripura, Mizoram, Nagaland & Arunachal Pradesh
Morello Building, Ground Floor
Shillong – 793001.
Phone: 0364-2504093
roc.shillong@mca.gov.in
13
ROC cum OL Bilaspur
Chattisgarh
Ist Floor, Ashok Pingley Bhawan,
Municipal Corporation, Nehru Chowk, Bilaspur- 495001. Chattisgarh
Phone: (07752)-250092(D),250094
Fax: (07752)- 250093
14
ROC Delhi
Delhi & Haryana
4th Floor, IFCI Tower, 61, Nehru Place,
New Delhi – 110019.
Phone: 011-26235703, 26235708
Fax: 011-26235702
roc.delhi@mca.gov.inFor Physical Verification Of Documents :
Sh. Kamal Harjani (RoC Delhi).
15
ROC Ahmedabad
Gujarat
ROC Bhavan, Opp Rupal Park Society,
Behind Ankur Bus Stop, Naranpura, Ahmedabad-380013.
Phone: 079-27438531,
Fax 079-27438371
roc.ahmedabad@mca.gov.in
16
ROC Bangalore
Karnataka
'E' Wing, 2nd Floor Kendriya Sadana Kormangala, Banglore-560034.
Phone: 080-25633105 (Direct),080-25537449/25633104
Fax: 080-25538531
roc.bangalore@mca.gov.in
17
ROC Gwalior
Madhya Pradesh
3rd Floor, 'A' Block, Sanjay Complex
Jayendra Ganj, Gwalior.
Phone: 0751-2321907
Fax: 0751-2331853
roc.gwalior@mca.gov.in
18
ROC cum OL Cuttack
Orissa
Corporate Bhawan, 2nd & 3rd Floor, Plot No-9(P), Sector-1,
CDA, Odisha Cuttack-753014.
Phone No: 0671-2362661,2366952
roc.cuttack@mca.gov.in
19
ROC Chandigarh
Punjab, Chandigarh
Corporate Bhavan, 1st Floor,
Plot No. 4-B, Madhya Marg, Sector 27B, Chandigarh – 160019.
Phone: 0172-2639415/2639416
20
ROC Chennai
Tamil Nadu
Block No.6, B Wing 2nd Floor Shastri Bhawan 26, Haddows Road, Chennai – 600034.
Phone: 044-28270071
Fax: 044-28234298
roc.chennai@mca.gov.in
21
ROC Coimbatore
Tamil Nadu
No.7, AGT Business Park, I Floor, Phase II, Avinashi Road, Civil Aerodrome Post,
Coimbatore- 641014, Tamil Nadu.
Phone:(0422) -2629640, 2628170(Direct) Fax: 0422-2628089
roc.coimbatore@mca.gov.in
22
ROC Kolkata
West Bengal
Nizam Palace 2nd MSO Building
2nd Floor, 234/4, A.J.C.B. Road, Kolkata – 700020.
Phone: 033-2287 7390
Fax 033-22903795
roc.kolkata@mca.gov.in
Summing Up
We hope that this article offered clarity regarding the functions of Registrar of Companies. In case of any clarifications, please feel free to write to us.