The Partnership Act, 1932, offers the flexibility of registering your partnership firm or keeping it unregistered. You can establish an unregistered firm through a verbal/written contract. On the other hand, for registration, you need to apply to the Registrar of Firms. Regardless of the registration status of the firm, you need a bank account to commence the business activities of the firm. Today, we will talk about the partnership firm account opening process and list the documents that you need for the same.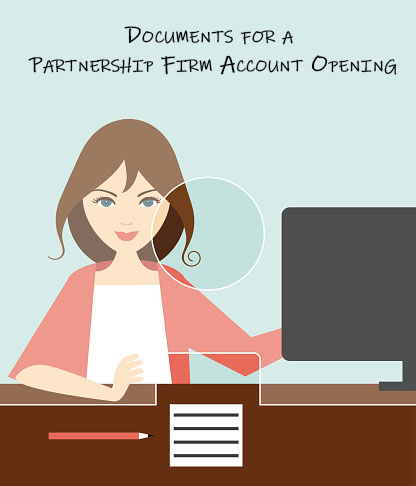 Partnership Firm Account – KYC Norms
The Reserve Bank of India (RBI) has listed down the Know Your Customer (KYC) norms for all entities. Further, banks collect documents for account opening based on these norms. For a partnership firm account, the KYC norms are as follows:
The Partnership Deed
Registration Certificate (if you have registered the firm)
KYC documents of all the partners.
The PAN Card and Proof of address of the firm
Passport size photographs of all the partners
Further, identity and address proof of all authorized signatories
Also, latest passport-size color photographs of all authorized signatories.
Any registration document issued by central or state government (normally GST certificate is submitted)
Copy of latest electricity bill, telephone bill or water bill.
Authorisation letter authorising a partner as authorised signatory for the bank account.
Any other document, as may vary from bank to bank.
How to open the account?
You need to find a bank that offers current accounts for partnership firms (registered or unregistered), depending on the registration status of your firm. You must also look for accounts that meet the specific requirements of your business. For example, if you have frequent international transactions, then look for a bank that offers discounted rates on international remittances. Once you have determined the bank where you want to open the partnership firm account, submit the application form along with the documents.
Summing Up
Remember, you will conduct all your business transactions through your firm's bank account. Hence, ensure that you look at your options and finalize the one that suits your business.