As an entrepreneur launching a startup, you have a long list of pending decisions waiting for you. Right from an innovative business idea, to optimum processes, to selecting the right business entity, it is an endless journey. However, it is important to remember that every decision you make now goes a long way in determining the success of your business. While traditionally, new businesses preferred the sole proprietorship model, in recent times, a private limited company is evolving as the preferred option for company formation. Today, we will look at the reasons behind startups preferring a private limited company.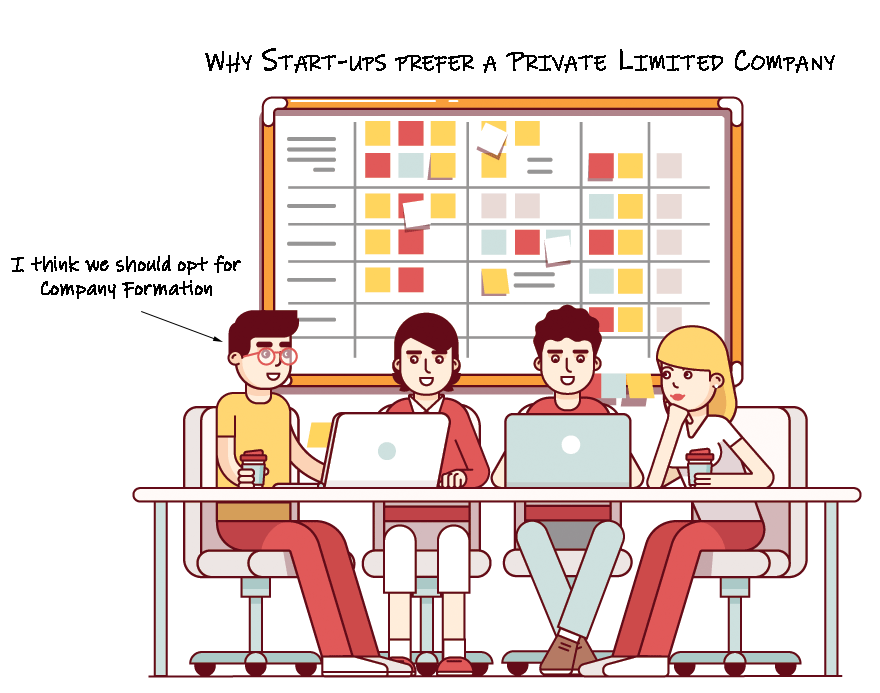 Company Formation Benefits: Limited Liability & Separate Legal Entity
As the owner of a new company, you weather a lot of storms. Tough competition, changing market demands and trends can throw your business out of gear in no time. Hence, it is important to create an entity that has its own identity, separate from the owner, so that during exigencies you are protected from unlimited liabilities. A private limited company offers limited liability to its directors and creates a separate legal entity keeping the owner and the company separate. If you are liable for the losses that the business incurs, then your personal assets are at risk too. Hence, prudent entrepreneurs prefer opting for an entity that allows them to accept liability proportional to their share in the business. It is also important to note that limited liability also implies a limited share in profits.
Company Formation Benefits: Raising Capital
When you start a business, the only thing on your mind is establishing it and dealing with all potential bumps and blocks along the way. While growth is on your mind, planning for growth is not something a startup does. However, the choice of business entity can play a crucial role in the future growth of a business.
Growth requires finance. And, a private limited company can easily raise equity capital if required for the business. Further, investors and venture capitalists prefer investing in a business with an organized structure and team. Also, banks and financial institutions prefer issuing loans to companies as opposed to say, sole proprietorships. Every business has a specific finance requirement at every stage. A private limited company allows you to raise the required funds via equity, debt, and deposits. You can avail funds from directors, banks, shareholders, etc.
Company Formation Benefits: Continuity of Business
Setting up and establishing a business requires years of hard work. While a business owner makes all kinds of plans to grow the business, he cannot ignore the unpredictability of life. Call it insurance, but a business owner needs to think about the fate of his business if he is no longer around to run it.
One important feature of a company is the perpetual succession or continued existence until dissolved. Being a separate legal entity, the resignation or death of any member does not affect the existence of the company. Unlike a sole proprietorship, the goodwill earned by the business holds value even if there is a change in membership.
Transferability of shares
If you have a company limited by shares, then a shareholder can transfer the shares to any other person. The process is simple and easy too.
Employee Stock Options (ESOPs)
As a startup, attracting talent and building a strong team is essential for the success of the business. Markets are competitive and you need all the help that you can get. A private limited company allows you to create ESOPs to attract good talent and keep your team motivated. ESOPs, are shares that a company issues to its employees at a discounted price. This gives startups, registered as a private limited company, a small edge over other startups in the same sphere.
No minimum capital requirement
Earlier, a lot of new businesses would not opt to register a private limited company due to the requirement of a minimum paid-up capital of Rs.1 lakh. However, with that requirement waived off, an increasing number of startups have started registering companies instead of other business entities.
Summing Up
The type of entity plays a crucial role in the success and growth of a business. Every entity has some advantages and disadvantages. While startups are preferring a private limited company for reasons mentioned above, every business is different and demands a specific entity. Hence, we recommend new businesses to understand the requirements of their business before making a decision. You can always change the entity later. However, it will cost money and time. The decision of company formation requires a clear understanding of where you stand today, how you want to go about the business, and where you plan to take your business in the future. Think well and decide carefully. If you are launching a startup and are undecided about the entity that you would want to choose, then read up about other entities too before making a decision. Good Luck!